10 Crazy Plant Pot Alternatives That Are Just Too Cute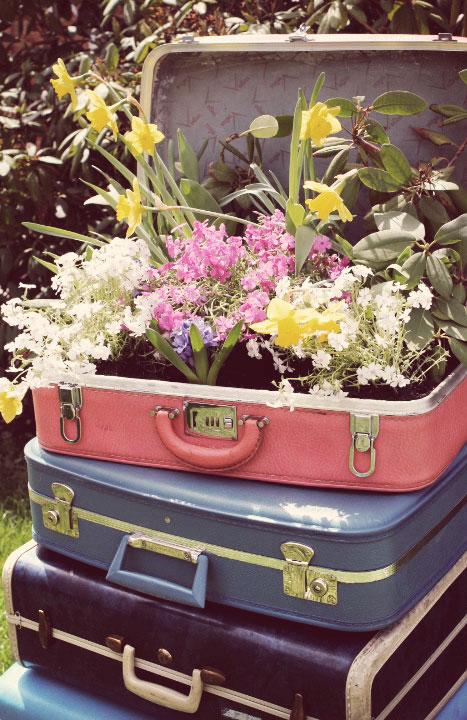 Got a little time and space to spare? Try these wacky alternatives to plant pods.
They'll wow your guests and add some nonchalant, artistic vibes to your home.
1. Boots
Photo: irishbotanicals.com
You've heard of 'Puss in Boots' but what about 'Plants in Boots'? Wellington boots in particular make great plant holders - they're fun, colourful, and cheerful.
Get inspiration here.
2. Glass jar
Photo: passthepistil.com
Why throw your glass jars away when you could use them as plant pots? They're stylish and provide a glimpse of the soil and roots that lie beneath your plants.
Get inspiration here.
3. Metal bucket
Photo: shescraftycrafty.com
Sturdy, robust and classic. A metal bucket flower pot looks great in many different settings. They are often found in home stores and come in various sizes to suit your needs.
Get inspiration here.
4. Suitcase
Photo: traceytilley.com
Rugged, old-fashioned suitcases make for quirky plant holders. These planters are especially for those who enjoy displaying their artistic flair.
Get inspiration here.
5. Teapot
Photo: gardeningsuccs.com
Rather than discarding your old teapot, transform it into a new home for your plants. It'll give your home an artistic, bohemian vibe that others can be inspired by.
Get inspiration here.
6. Tyres
Photo: backyardboss.net
Planning on having your tyres changed in the coming months? Why not use the old ones as planters? Paint them your favorite colours and use them to hold your plants.
Get inspiration here.
7. Vintage tin
Photo: hometweaks.com
Vintage tins have an effortlessly charming appeal. They hark back to nostalgic times and can be used to hold plants. Such tins can often be found in home or second hand stores.
Get inspiration here.
8. Watering can
Photo: recreativeworks.com
Plants look surprisingly great in a watering can. You could get creative by spray painting an old one or a relatively inexpensive one from your local garden store. Just be sure you have an additional watering can available for regular use!
Get inspiration here.
9. Wicker basket
Photo: thenavagepatch.com
There's something about wicker material that compliments flowers so well. It looks natural, rustic, and clean at the same time. Colourful flowers look amazing in these.
Get inspiration here.
10. Wheelbarrow
Photo: gardenbuildingsdirect.co.uk
Have an old wheelbarrow in the shed that you never use? Why not turn it into a flower bed? If you have the outdoor space, this will give your home a country cottage vibe.
Get inspiration here.
Why not try a plant-pot alternative in your home? When it comes to breathing new life into your home or garden, a simple visual change could be all you need.
To learn more about us, head over to www.clickandgrow.com. Discover how the Smart Garden 3 and Smart Garden 9 make growing fresh, organic food and flowers at home easier than ever.
Be sure to check out our blog for valuable features such as green living tips, ways to create sustainable homes, the importance of food safety, how to grow plants indoors and much more.
Back to all posts