Gardener of the Month - Featuring Yolanda from Bellevue, Washington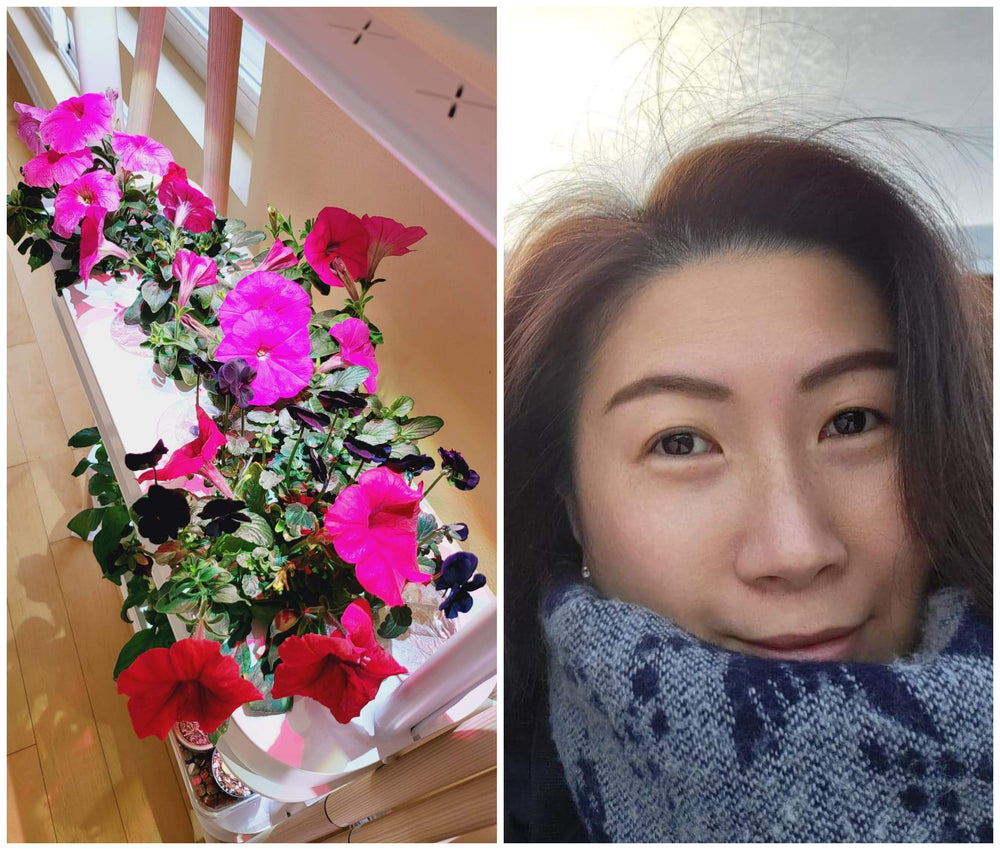 In keeping with tradition, it's time to announce our gardener of the month. This time, we're delighted to introduce you to Yolanda from Washington! Yolanda is a true "indoor gardening fairy" who shared some of her secrets to keeping plants in her smart garden happy and thriving.
Hi, Yolanda! What does gardening mean to you and what role does it play in your life?
To me, gardening is more than just growing food; it's a process that brings you happiness and calms your inner sense. It's relaxing and filled with inspiration.
Living under Northwest weather (excessive rain, lack of sunlight, and snow) can easily make you feel down. Indoor gardening brightens up my day and helps me gain positive energy. In addition, gardening helps me relieve stress. It's an excellent model for teaching my kids responsibility, care, and discipline.
When did you start growing with us and what's been the highlight of your indoor gardening journey?
I started to grow my indoor garden in February 2021 during the pandemic lockdown. Click & Grow provided much-needed entertainment and inspiration - plus delicious food.
We could see new life growing every day. It was fun to watch beautiful flowers dancing in the garden, cute little fruits becoming more prominent and rounder each day, and the most important thing - it gave us a big smile when we woke up in the morning. That's the joy we experienced this whole time. 
Click and Grow also acts as a science lesson for my kids. It's an opportunity to learn about the root system, photosynthesis, and life cycle during planting. We have lots of fun using the experimental pods for different kinds of flowers and vegetables, such as gazania, poppy, eggplant and cucumber. The possibilities are endless and it was a good learning process and interactive activity for my kids. They love to harvest their vegetables and create their own recipes. It was delightful.
Which flowers do you enjoy growing the most and why?
I love to grow petunias. They give you colorful, vibrant flowers that energize your room's atmosphere. The big open flowers smile at you each time you walk by. Besides that, my favorite flower combination is lavender and polka dot; all those pastel colors, leaves, and flowers give you a romantic English garden vibe, and the fragrance from the lavender smells divine and freshens up your room. Plus, you can dry the lavender for a small satchel or put it in your tea.
What advice would you give new growers?
My two cents for new growers are to give your plants love, care, and patience. Everything takes time, it's the same with our lovely plants.
Love - give them lots of love and talk to them like I did!
Care - prune and clean up any dry leaves and flowers. Check their conditions every few days. 
Patience - wait patiently and let them grow. It won't happen overnight, but your plant will become beautiful and mature some day.
Lastly, download the Click and Grow app. It has all the information you need and it's especially helpful for new growers. Also, join the Click and Grow Facebook community group - all the members are very friendly and willing to help each other; I learn a lot from them.
Thank you, Yolanda, for sharing your indoor gardening journey with us.
Stay tuned as next month we'll feature another gardener chosen by our Facebook community!
Explore more:
Images credit: Yolanda
Back to all posts