Grow More Food at Home Using Vertical Space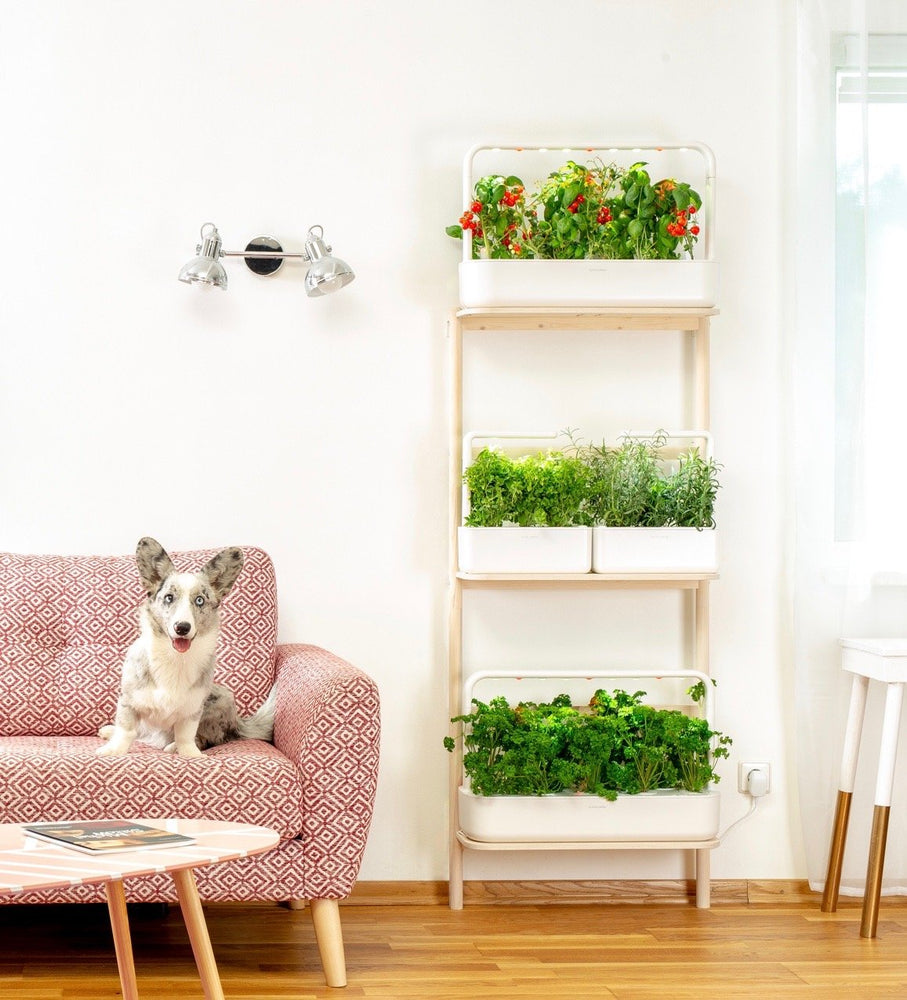 We hope you didn't miss the announcement yesterday, but in case you did, we introduced the new Plant Stand, a new specially designed wooden stand enabling customers to grow more food indoors using vertical space. In fact, after speaking to many of you and listening to the feedback that you had, we found that utilizing space and efficient growing is what you were looking for!
"Click & Grow Plant Stand allows you to produce more vegetables and greens using vertical space. It was one one of the most requested accessories by our customers and we are excited to bring it to life."
- Mattias Lepp, CEO & Founder of Click & Grow
The stand holds three to five Smart Gardens, providing you with the perfect set-up to grow up to 27 plants at a time. Click & Grow Plant Stand can be purchased separately or in a combo which includes two Smart Garden 9s and two Smart Garden 3s at a special discounted price, saving you $300!
"Indoor gardening with Click & Grow gives you full control over the quality and freshness of the food you consume. It helps you find a sense of calm through connecting with nature even in an urban environment and it is totally effortless. No wonder that we can see more and more of our customers choosing to grow more of their food at home," said Mattias Lepp, Founder and CEO of Click & Grow.
The Plant Stand Specification
Three shelves fitting one Smart Garden 9 or two Smart Garden 3s each, allowing you to grow up to 27 plants at a time.

Designated shelves that are customizable to your Smart Garden, with an option to flip each shelf for a better fit to your Smart Garden 9 or two Smart Garden 3s.

Dimensions: 144 x 62.5 x 24.5 cm
Our Plant Stand is currently available for pre-order only in Europe and Asia; however, we are working to get it shipped worldwide as soon as possible! We hope to see it in your home growing fresh herbs and veggies for you very soon.
Back to all posts