Home Decor Ideas: 7 Ways to Use Your Indoor Herb Garden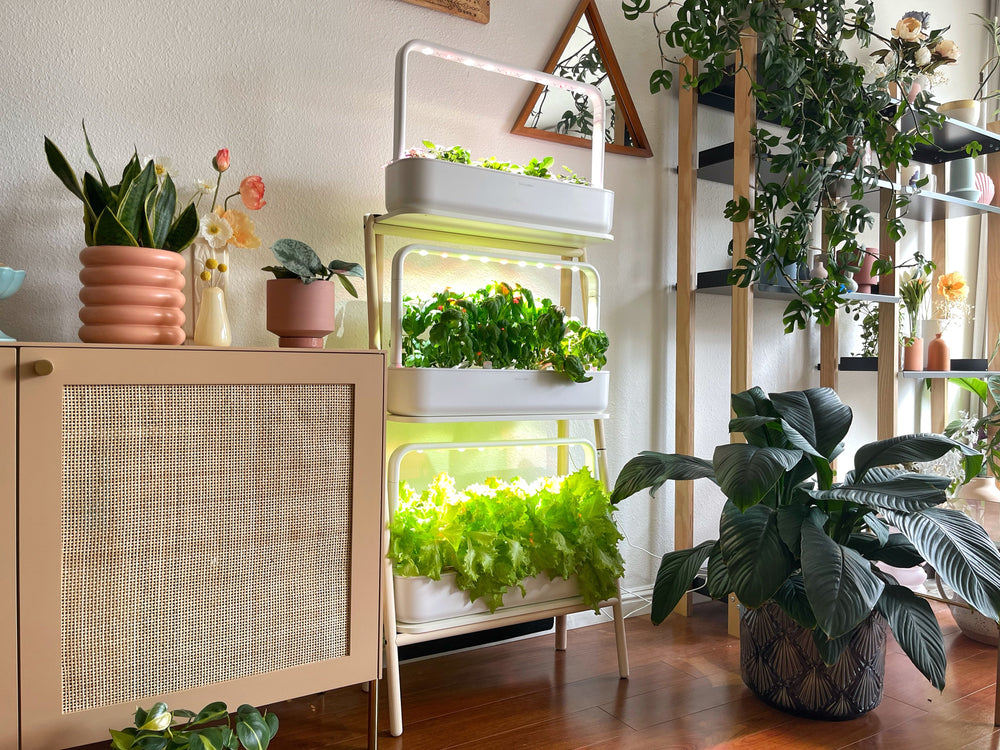 Your smart indoor garden grows food effortlessly… but that's only half the story. It's also a unique decorative object for your home. If you're a design-minded person, a Click & Grow smart garden makes sense for multiple reasons:
Premium quality build, designed to last for years.

Loved by

reviewers

, influencers and thousands of happy customers around the world.

Minimalist, Nordic design blends with new and existing interiors.

More stylish than flower pots and planters.

You can become a trendsetter. Indoor gardening is still a growing sector - not many of your friends, family or colleagues will own an

indoor garden

yet.

Customisable. Grow edible and decorative plants from an ever-expanding portfolio.

By using your smart garden, you're helping to bridge the gap between humankind and nature.

Click & Grow has more than a decade of experience in the indoor gardening sector. Enjoy peace of mind knowing you're in safe hands.
When it comes to design, there are no rules. A smart garden gives you an opportunity to express your personality and creativity. Here are 7 trendy ways to make your garden complement your home decor:
1. As a Kitchen Counter Accessory
By far the most popular place to display smart gardens. It's easily accessible and makes your kitchen look like it jumped off the cover of Elle Décor Magazine. The Smart Garden 3 is perfect for smaller apartments, dorms, or kitchens with limited space. The Smart Garden 9 is ideal for a slightly more spacious kitchen.
Images (clockwise left to right): @Thefrenchiegardener, @jehdventures, @torontoshay, @stylerightblog
Shop the look: The Smart Garden 3, The Smart Garden 9
Plant suggestions: (versatile herbs for cooking) Parsley, Chives, Thyme
2. As a Dining Table Lamp
Bring hygge vibes to your dining table. The garden's grow lights double up as an ambient lamp, perfect for cold winter evenings or rooms without much natural sunlight. While you're at the table, snip off a few leaves from your Click & Grow plants and add to your salad. Gather your friends for a cosy meal.
Images: @daniel_johansson_designer, @harrymckinley
Shop the look: The Smart Garden 9, The Smart Garden 3
Plat suggestions: (greens to add to salads) Green Lettuce, Romaine Lettuce, Pak Choi
3. As a Windowsill Decoration
Proudly display your sense of style. Your indoor garden transforms a boring windowsill into a creative, visually stimulating space.
Images: @feliciaklf, @healthywanderlust.nl
Shop the look: The Smart Garden 3
Plant suggestions: (decorative plants to show off) Busy Lizzie, Cockscomb, Painted Nettle
4. As Part of a Shelf Display
Pair your indoor garden with photos, houseplants, books and toys to create a well-proportioned shelf. A white smart garden 3 works especially well for smaller shelves and complements almost any object. If you have a larger shelf, a smart garden 9 works equally well.
Images (clockwise left to right): @paolo_rigogliosi, @tdurand, @theathertonhouse
Shop the look: The Smart Garden 3
Plant suggestions: (unique colours) Purple Chili Pepper, Wild Strawberry, Yellow Sweet Pepper
5. As a Wall Mural
Make use of vertical space. Smart gardens are a contemporary solution for decorating your living room, dining room or kitchen wall. Choose the Smart Garden 27 if you want to add a splash of colour and light to your home.
Images: Kadri Ronk, @hothouse.jungle, Yolanda
Shop the look: The Smart Garden 27
Plant suggestions: (for luscious, edible greenery) Basil, Green Kale, Oakleaf Lettuce, Garden Cress
6. As a Home Bar Accessory
An indoor garden looks great in your home bar, right next to a coffee machine or on your counter besides some magazines. Grow decorative plants to garnish cocktails.
Images (top to bottom): @love_coffeeph, @blume_pr
Shop the look: The Smart Garden 3
Plant suggestions: (for garnishing cocktails) Thai Basil, Peppermint, Rosemary
7. As a Background Ornament
Your indoor garden doesn't need to be at the center of attention. It can work equally well as a decorative object in the background. Place it somewhere subtle and watch it blend into your home.
Images: @cristtinal, Stephanie Quak, @Greciadelapaz
Shop the look: The Smart Garden 3, The Smart Garden 9
Plant suggestions: (decorative options) Black Pansy, Blue Petunia, White Snapdragon
Looking to get your first indoor garden? Check out our blog post:
Your Guide to Choosing a Click & Grow Smart Garden
Read why our community loves growing with us here!
Back to all posts