The Click & Grow community: This one's all about you!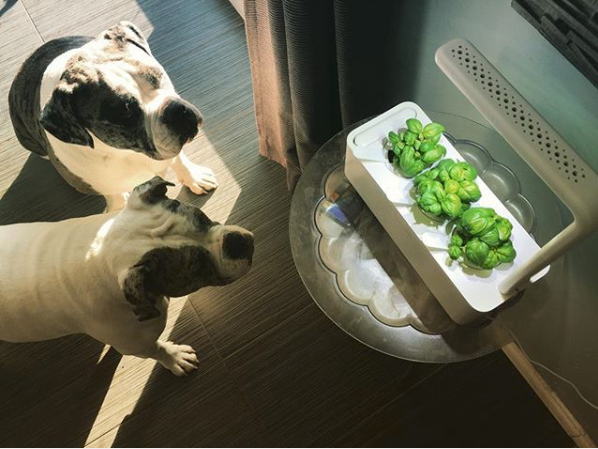 If there's one thing we're proud of, it's our community and all the wonderful members that make it what it is today. We recently realized how big of a collection we've amassed of all the beautiful moments you've shared with us and today we'd like to start showcasing them to pay forward all the positive vibes. Your joy and kind words keep inspiring us to keep going with full force!
We encourage you to continue sharing all your happy gardening and harvesting moments! Tag us with @clickandgrow.com or use the #clickandgrow.
Thank you for being Click & Growers!
The winning photo from our #GrowOneGetOne challenge! Jason's son is aiming to become a botanist and loves growing on his Smart Herb Garden.
We love seeing the youngest members of our community taking an interest in gardening and all of you who support them! Another adorable success with the Smart Herb Garden.
With the official launch of the Smart Garden 9, and them slowly making their way into your homes, what an adventure it has been to see the plants sprouting along with you all as you grow them! via @trautante
@yyc_fr_julie's Smart Garden 9 is off to a beautiful start, and we can't wait to see the continuous growth.
And how could we forget everyone's fur babies! @arnyandyo are enjoying watching the basil sprout, in the Smart Garden 3, and hoping maybe some will get added to their food to try.
@vertigobirdie's cat is enjoying the new Smart Garden 9. It's great for cat naps and great for growing catnip too!
Some of our favorite posts from the community are when you guys get creative with the names and layout of the plants! Cynthia is sprouting so wonderfully in the Smart Garden 3. Great gorwing @elynchong
DIY is big in our community, and @susansin1206's DIY in a champagne glass is one of our favorites. Plus, look at all the herbs she has grown, wow!
But truthfully, you don't have to do much in this community we will love your herbs regardless! In fact, that's what inspired us to start...nature simplified. Our Smart Garden 3 via @chikilao.
------
We've got so much more where that came from! Send us your experiences!
Want to get your picture or project featured? --> Tag us on social media with @clickandgrow or #clickandgrow or write to press@clickandgrow.com.
Definitely join the discussion on our FORUM. Ask us questions, see great DIY projects and share your ideas!
Back to all posts