5 Safe DIY Bug Repellents For Your Outdoor Garden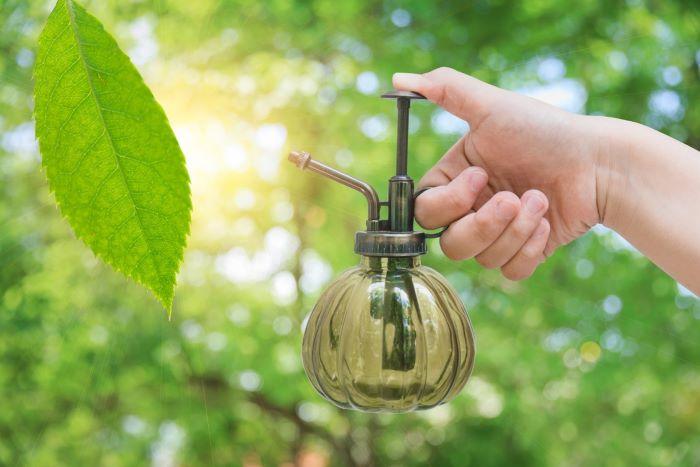 There's something so satisfying about growing your own plants. It's exciting to watch them grow and to enjoy the fruits of your labour. The process also makes us appreciate the challenges farmers go through to grow our food. Growing plants in a Click & Grow Smart Garden is super simple. When it comes to outdoor gardening, one of the biggest challenges you face is keeping hungry insects away. With that in mind, we've rounded up a list of homemade, DIY pesticides you can try on plants in your outdoor garden. They'll help keep pests away from your crops and won't poison you and your family.
Image: smithspestmanagement
1. Neem Oil Spray
Neem oil is commonly found in garden stores. It works against most garden pests and it's not toxic for pets, birds or other wildlife. For 1 liter of a 0.5% solution, you'll need some cold pressed neem oil (1 tsp), an antiseptic liquid soap (1-2 ml) and some warm water (1 liter). Spray once every two weeks using a 0.5 % solution. This should help to prevent any insect problems arising in the first place. You can make the spray more diluted for preventative purposes or more concentrated for tackling an infestation.
Instructions: discoverneem
2. Garlic Mint Garden Plant Spray
This all natural spray is super easy to make and works like a charm. It's made up of mint leaves, garlic cloves and cayenne pepper. In addition to removing pests, it helps to repair plants that have already been damaged by insects. The ingredients you'll need for this spray are: 2 heads of garlic, 3 cups of mint leaves, 2 teaspoons of dry cayenne pepper, 12 cups of water and 2 small squirts of biodegradable washing up liquid.
Instructions: anoregoncottage
3. Garlic Chili Spray
A more potent option for tackling bugs such as cabbage loopers and leafhoppers. The majority of bugs don't like the smell of cayenne pepper and garlic as it contains substances that irritate them. The spray is straightforward to make and can be stored in the fridge for a week. To make this spray, you'll need 2 teaspoons of dry cayenne pepper, 1 head of garlic, 1 small peeled onion, 1 tablespoon of powdered cayenne pepper and 1 tablespoon of liquid dish soap.
Instructions: thedailygardener
4. Spicy Tabasco Pest Repellent Spray
Thanks to an active ingredient called capsaicin, this spray can fight off pests such as ants, mealy bugs, spider mites and aphids. The tabasco makes plant surfaces bitter which also stops birds from feeding on your produce. You'll need 1 liter of water, 5 tablespoons of tabasco sauce and 1 teaspoon of dishwashing soap. It's really easy to make, you simply add the ingredients into the bottle of water, shake well and then transfer the liquid to a clean spray bottle.
Instructions: homesteading
5. Dish Soap Spray
One of the simplest DIY bug repellants around - all you need is mild liquid soap and water. This spray is particularly good for getting rid of soft-bodied insects. Spray onto both sides of the leaves and stems. You may need to reapply it every 4-7 days depending on how long it takes the insect population to go away. All you need is a quart (2 pints) of water and a mild liquid soap. Dissolve the liquid soap into the water and you have your repellant.
Instructions: almanac
To learn more about what we believe in, visit us at
www.clickandgrow.com
. Discover how indoor gardening can change your life today.
Back to all posts