5 Steps to Enjoying Your Favourite Click & Grow Plants Outdoors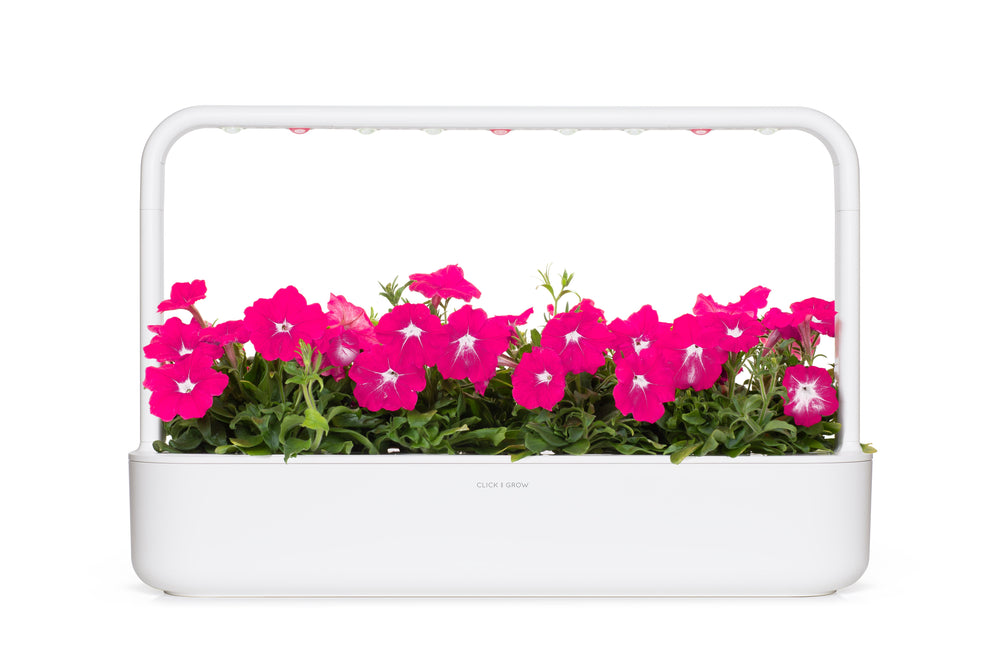 As winter begins to fade, now is the perfect time to plan which plants you'd like to have outdoors during spring and summer. Outdoor plants are a great way to personalise your garden, balcony, patio or a small plot of land. With your environmentally-friendly smart garden, you can start growing these plants ahead of time, then transplant them outdoors as the weather improves. In no time at all you'll have beautiful, ready-made plants for your outdoor space. Here's how to go about it.
1. Give your indoor garden a spring clean
It's always a good idea to clean your smart garden before inserting new plant pods. Cleaning helps to remove old water and any debris from previously grown plants. It also reduces the risk of any pests or diseases from previous growth cycles being transferred to your new plants. Check out our tutorial on how to easily clean your smart garden here.
2. Choose plants that really appeal to you
Take your time and browse through our extensive catalog of fruits, greens, herbs and flowers to grow in your smart garden. Pick out some plants that really appeal to you and will give you the most joy growing.
If you're looking to spruce up your garden, why not opt for some decorative flowers such as red pansy, blue petunia or cockscomb? If you'd like to display fresh fruiting plants, consider bestsellers such as chili peppers, sweet peppers or mini tomatoes. If you'd like to grow herbs for tea or cooking, have fun exploring the unique flavours of plants such as cinnamon basil, apple mint and catnip. Those belong to a family of flowering plants known as 'Lamiaceae'. Their flowers provide nectar for insects and butterflies. If you're looking to grow some salad greens, check out some of the newest additions to our catalog such as wasabi mustard, mibuna and shungiku.
With over 60 plants to choose from, there's something for every taste or family member. Depending on your growing needs, you can also opt for a customisable subscription plan which will save you time and money. If you already own a smart garden, you can choose a plant pod subscription, ensuring you never run out of plants to grow. On the other hand, if you're just getting started with indoor gardening, you can take advantage of our indoor garden + plant pod subscription which will give you a Smart Garden 9 with a year's supply of plants.
3. Check the plant's 'lasts up to' date
When considering which plants to pre-grow in your smart garden, it's important to take their 'lasts up to' date into consideration. The 'lasts up to' date refers to the maximum amount of time your plant pod can usually live in a smart garden (beginning from the time it was planted). You can check each plant's 'lasts up to' date by clicking on their product page in our catalog. This information can also be found on the Click & Grow mobile app. Simply register your smart garden and plant on the app and you'll be sent helpful tips at each stage of your plant's life cycle.
As a general guideline, plants that grow in a smart garden have a lifespan of 2 - 6 months. If you plan to repot a Click & Grow plant outdoors, it's important to do it before the end of the plant's life cycle. If the plant is past its 'lasts up to' date, it will no longer be in its prime, making it very unlikely to flourish outdoors. Some plants such as a dill, cilantro and cress, have fairly short life spans and transplanting them outdoors will not prolong their life cycles.
4. Follow plant care tips
While growing your plants in your smart garden, it's important to keep the plant care tips in mind. Plant care tips are put together by our gardeners to help you know what to expect at each stage of your plant's life cycle. General tips can be found on each plant's product page whereas you'll receive more detailed tips after registering your plant in the Click & Grow mobile app. You'll find out important information such as the ideal room temperature for your plants, when they should be pruned, how they should be pruned and much more. If you ever have any questions, our gardening team is more than happy to help. You can contact our gardeners directly using our 'Ask a Gardener' forum.
5. Repot outdoors as weather improves
The final step before you can enjoy your plants in their new outdoor environment. Repotting outdoors requires some care. Here's how to do it:
Remove plant from the cup and carefully loosen the rootbound. This helps to stimulate root growth.

Cut back ⅓ of your plant. Cutting back plant leaves will help to reduce evaporation from the plant until it is rooted. Remove any fruits or flowers too. By doing this, you're helping it to root faster as the plant won't need to put energy into growing fruits.

Plant it in the new pot at the same depth it was grown previously. The pot shouldn't be much bigger than the plant pod. A pot with a 6 inch (15 cm) diameter is fine.

Gently pat down the soil and water it. This helps the roots make better contact with the soil.
For a visual reference, check out this video guide on how to repot petunia. The same process applicable for any other Click & Grow plant you may wish to repot.
Now that your Click & Grow plant is repotted, you'll need to care for it as you would a regular outdoor plant. Make sure to water it enough, especially during the first few weeks - the soil should be moist but not too wet. The water will help the plant settle into its new home.
Bonus tip: If you have repotted a Click & Grow plant, we recommend repotting it each year in a pot that is +1 inch (2.5 cm) bigger than the previous one.
Enjoy having your plants outdoors!
Back to all posts