6 Indoor Gardening Gifts For Every Personality On Your List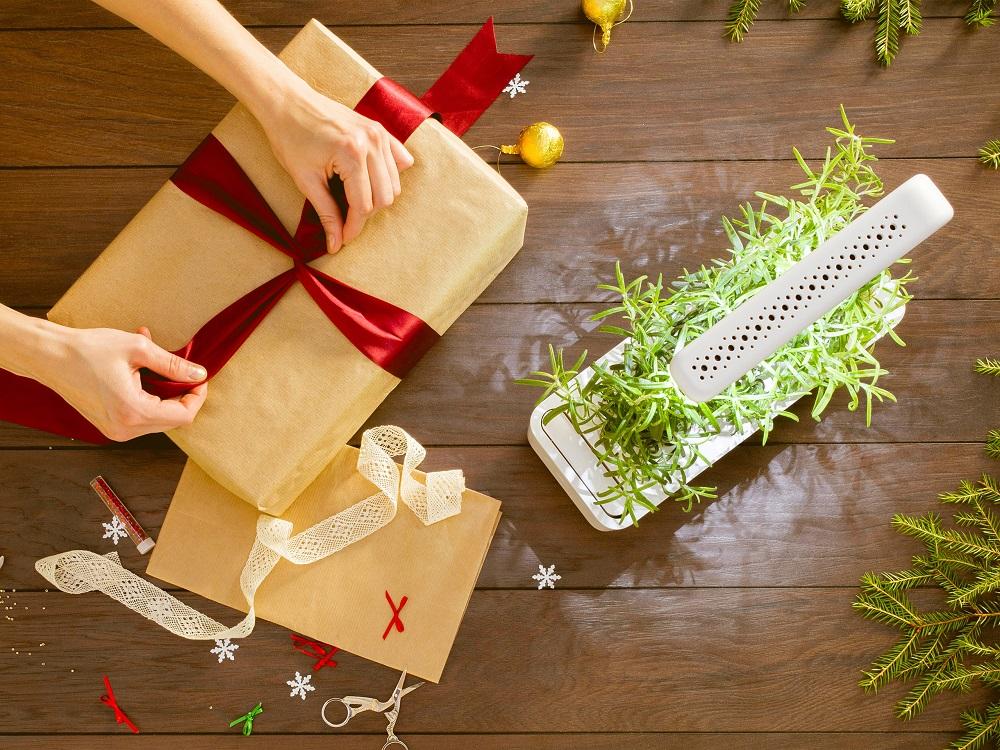 Want to show that special someone how much you care? This year, treat them to the perfect indoor garden bundle - a gift they'll enjoy well beyond the holiday season. Indoor gardens are fully automated, enabling them to grow their favourite plants any season, anywhere. We've put together some bundles for every need and preference.
Each bundle is available in 2 options; the small version includes the cute, compact Smart Garden 3 and the large version includes the Smart Garden 9 for even greater yields.
1. The 'Herbs Go With Everything' Kit
Know someone who loves to cook? This bundle is the perfect resource to help them create fresher, tastier meals. Includes a smart garden they can set up on their kitchen counter and 3 of the most versatile herbs for cooking: chives, rosemary and parsley. Dinnertime will never be the same again.
2. The 'I'll Try Anything Once' Kit
For the adventurous one who can't always make their mind up! The small set is an ideal introduction to growing a decorative plant (lavender), a fruiting plant (wild strawberry) and a salad green (green lettuce). The large set takes it to the next level, featuring a smart garden, 3 salad greens (romaine lettuce, arugula, green sorrel), 3 fruiting plants (yellow mini tomato, wild strawberry, chili pepper) and 3 herbs (thyme, dwarf basil, marjoram). Whether they're interested in growing food for the first time or simply looking for a new hobby, this bundle will give them a taste of the smart garden's endless benefits.
3. The Salad Lovers Kit
For those who love to eat healthily. This smart garden bundle allows them to grow high yields of salad staples including romaine lettuce, green lettuce and red kale. They'll enjoy every bite of their homegrown greens in the knowledge that their produce is 100% safe and contains no herbicides, pesticides, GMOs or hormones. Salad greens can easily be used as side dishes for dinners or for quick, healthy snacks during the day.
4. The Blooming Flower Kit
Has your special someone been going through a rough time? Know someone in need of a mental pick-me-up? Look no further than this bundle. Includes a smart garden and a selection of vibrant flowers to brighten their home and their mood (lavender, petunia and busy lizzie). This bundle is also perfect for those looking to boost the aesthetics of their home or office. The smart garden's minimalist, Nordic design blends with any decor.
5. The Fruit and Veggie Kit
This feel-good bundle is perfect for those with families. It'll allow them to grow exciting plants together and experience the thrill of pollinating, harvesting and consuming homegrown produce. It's a great hands-on educational resource for learning about plants, ideal for young kids of all ages. Includes a smart garden, wild strawberries, mini tomatoes and chili peppers.
6. The Tea Lovers Kit
Tea time is sacred. Just ask any tea connoisseur. This bundle allows them to grow and harvest the freshest tea herbs on their windowsill or kitchen counter. They'll experience the subtle flavours that each herb brings and never want to go back to tea bags! Includes a smart garden, peppermint, thyme and either apple mint or lemon balm depending on the bundle you choose.
NB. All images feature the Smart Garden 9 with selected plants from large bundles.
Back to all posts